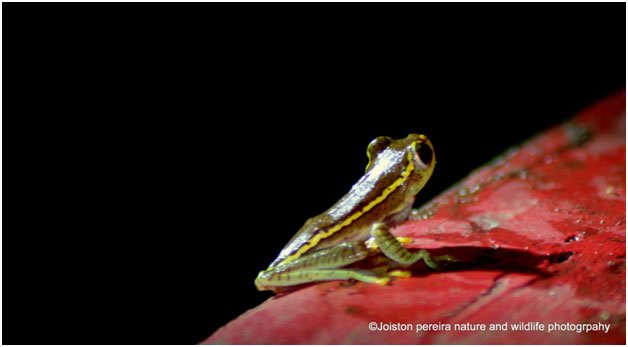 This lovely little fellow was photographed near the water tank, just below the Singapore cherry tree as soon as you enter the Frolic Boonies Bandipur Summer Camp Site Deep Jungle Home camp. At night if you happen to take a stroll around the campsite and walk to the Singapore cherry tree, you will see these lovely frogs either in small groups or singly, perched on the trees, looking intently at you as you stare at them and they stare right back at you with their beady golden eyes.
While we were at camp we happened to chance upon these lovely frogs sitting on the branches overhanging the water. Bala Sir was the one who spotted these frogs and called the rest of the naturalists to see them.
These frogs are endemic to the Western Ghats of India and can be seen in locations like Chikmagalur, Kudremukh, etc in Karnataka, Mudumalai in Tamil Nadu, Eravikulum, Wayanand and Periyar in Kerala. To find these little hoppers, one must look on lower canopy shrubs,  low hanging branches, twigs, etc in an evergreen or moist deciduous forest, or even among coffee plantations. These frogs are nocturnal and hence can only be seen when one is bumbling around in the dark with nothing but a torchlight and the fireflies lighting up the way.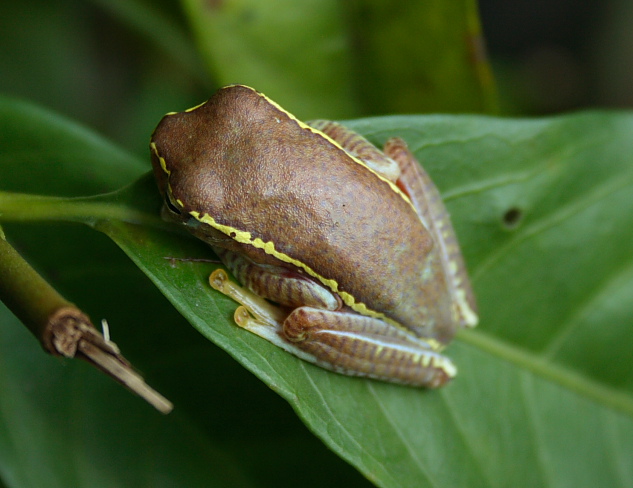 So, how exactly does one know if they have been fortunate enough to see out little jumper here, a few visual clues should help to identify these cute amphibians from their other counterparts. Firstly a green back which appears oragneish with black spots when a flashlight is shone on the frogs back, a lateral greenish yellow line that runs from the snout to the vent (i.e. from the nose to its hindquarters), a reddish flank can also be seen, which is nothing but its sides. A yellow heel patch and wrinkled dull webbing on the feet will reinforce your suspicions that what you've seen in indeed a Small Tree Frog.
At Mudumalai these little frogs are extremely common especially during the months of May, and specifically near the water tank. So the next time you do visit camp, keep your eyes peeled and your torches charged.
Author: Joiston Perira – A Naturalist with passion for conserving wildlife and natural habitat, he recently revived the annual bird survey / census at various water bodies / lakes of Bangalore.
0