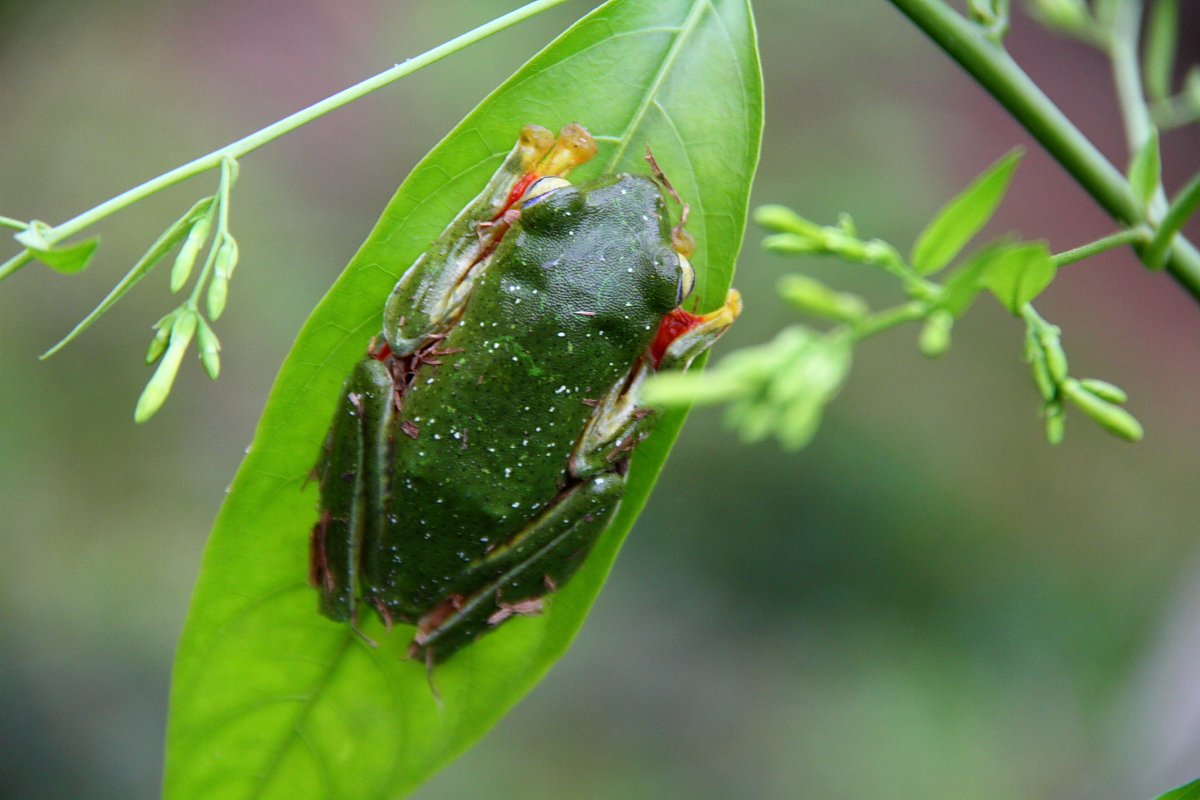 The Malabar winged gliding frog (Rhacophorus malabaricus) or simply the Malabar gliding frog is a Rhacophorid tree frog species found in the Western Ghats of India. It is given the conservation status of least concern by the IUCN but is endemic to the Western Ghats. The name 'gliding frog' stems from the frogs ability to break its fall when it leaps from the treetops by spreading the webbing in between its toes.
These frogs can glide up to twelve metres away, which is equivalent to almost a hundred times their own body length.
These frogs are most commonly seen on overhanging vegetation over water bodies, on trees and shrubs in evergreen to moist deciduous forests as well as coffee plantations up to elevations of 1200m. The frogs are endemic to the Western Ghats of India that run through Karnataka, Goa, Maharashtra, Kerala, Gujarat, and some parts of Tamil Nadu. Since these frogs belong to the group of Moss frogs, they build foam nests over small shallow pools of water into which tadpoles fall after the eggs have hatched. Below is a Gliding frog, building a foam nest in a small pool at the entrance to the Deep Jungle Home camp at Mudumalai.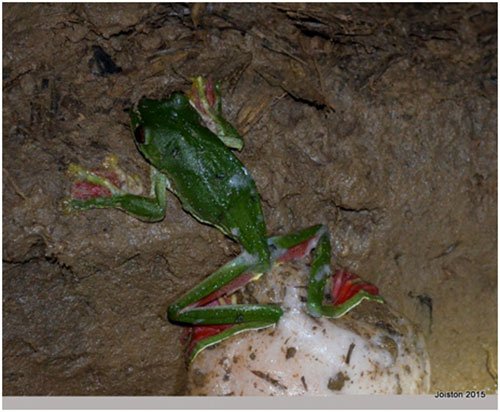 If you look carefully one will notice that the frogs are not entirely green, rather the back has some speckling of green and white dots. On the sides there are light green wavy reticulations seen against a white background. The heel also bears a distinctive spur or a projection, while the feet and hands have wrinkled, reddish webbing. Look closely at the picture and you will also notice a skin flap along the forelimbs and even on the hind limb.
So, how did we chance upon this frog as she was laying her eggs? Well, for starters, the summer camp counselors were going out for a night trek to see what they could spot and plan prospective routes for the bird watching trail the next day. After walking a few feet from the camp entrance, Allen Justin – the snake lover, suddenly stopped us in our tracks and pointed at the ground with his flashlight. When we went closer to inspect what had caught his attention, we saw this lovely frog, building its foam nest in a puddle on the ground. Watching this frog adjust itself and periodically use its legs to roll the foam nest into shape was quite an amazing experience, especially in the darkness and tranquility of the jungle where the calls of the Malabar Giant Squirrel and Gliding Frogs could be heard echoing through the canopy.
Author: Joiston Perira – A Naturalist with passion for conserving wildlife and natural habitat, he recently revived the annual bird survey / census at various water bodies / lakes of Bangalore.
0