The Malabar giant squirrel or Indian giant squirrel (Ratufa indica) is a species of the large tree squirrel genus Ratufa native to India. It is a large-bodied diurnal (chiefly active during the day), arboreal, and herbivorous squirrel found in South Asia. It has been categorized under the least concern status by the IUCN but it still faces numerous threats, habitat loss being the most serious threat these mammals face causing them to be endemic to deciduous, moist deciduous and evergreen forests.
These squirrels have a conspicuous two-toned; sometimes three-toned color scheme. The colors involved range from creamy-beige, buff, tan, rusty, and even browns. The under parts and front legs are usually cream colored, while the head can be brown or beige, however a distinctive white spot can be seen between the ears. There is a small rusty tip at the end of the black tail which is almost the same size as the body. They are usually solitary and only come together for breeding.
These squirrels are generally seen in the upper canopy and can often be spotted leaping between trees as far as six metres apart. During the early hours of the morning and towards dusk, these mammals are most active, resting during the hot jungle afternoons. When in danger, they flatten themselves again the branches or freeze in position, rather than bounding off, unlike their relatively shier urban cousins. Leopards and birds of prey are their biggest threats, and will pick one off the trees with great flair.

A Malabar Giant Squirrel feeding on jackfruit at Jungle Home, Mudumalai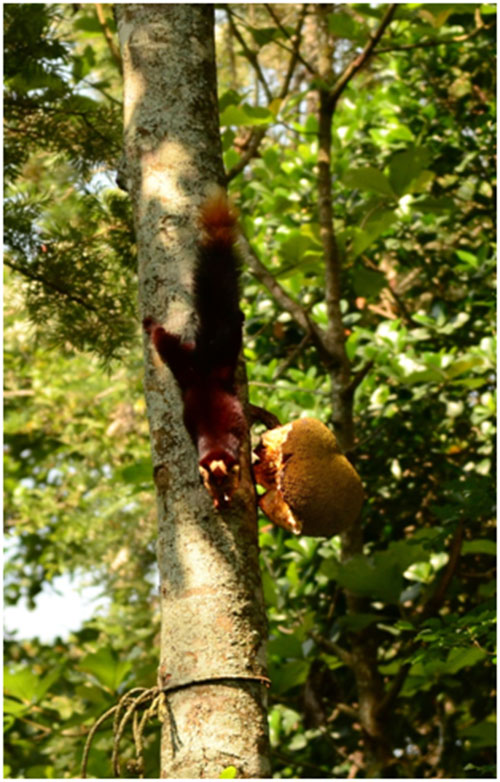 Another view of the Giant Squirrel as it feasts on ripe jackfruit. This was shot while on a trail through the Jungle Home Camp, Mudumalai.
The Singapore Cherry tree near the dining hall at the deep jungle home camp is a favorite hangout for these squirrels. Come dusk and you can hear these fellows rattling away to glory while they feast on the berries. Indeed this is a sight to behold, seeing these squirrels at such proximity, without a care in the world just envelops one in the lap of Mother Nature.
At night their calls can be heard reverberating through the jungle and is among the multiple lullabies the jungle plays for you.
Author: Joiston Perira – A Naturalist with passion for conserving wildlife and natural habitat, he recently revived the annual bird survey / census at various water bodies / lakes of Bangalore.
0