Author: Anju Gyanchand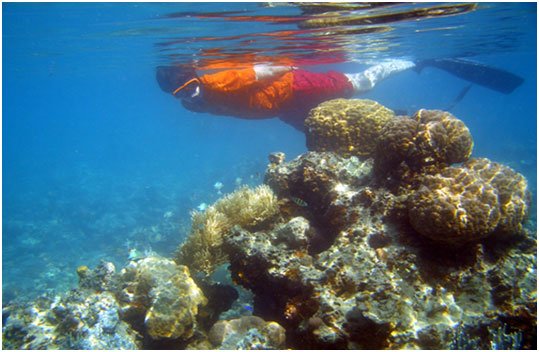 Arguably one of the best destinations for snorkelling, Maldives' rich marine life makes it an experience undeniably like any other. Most resorts in this island country that offer snorkelling have their house reefs with access to deeper oceans from shallow lagoons. A house reef is from where a vertical drop just a short distance from shore takes you straight into the deep ocean to immensely beautiful sights.
In its pristine and clear waters, you can see anything from tuna and eagle rays to turtles and hammerheads. And come face to face with a rich profusion of colourful corals from deep pink to purple and blue and green, in a myriad of design–spiked, fluted, fanned, and brain-shaped. It is without doubt a wondrous sight to behold.
Snorkelling in Maldives whilst being thrilling isn't bereft of its dangers. At any moment you can come face to face with the reef shark or an aggressive titan triggerfish protecting its nest. Though these are smaller than the former, they are no less dangerous.
It is important to understand the responsible way of doing things in an environment not generally familiar to you and listen to local advice when and where it comes. No one knows the country better than the Maldivians themselves, so it would be foolish to ignore them.
Always follow these safety tips and listen to the instructions given by the expert before indulging in snorkelling.
Maldives is on the equator; therefore, it has the harshest sun in the world. Make sure to take necessary precautions to prevent serious burns. Wearing the right clothing and sunscreen can go a long way in keeping your entire sojourn positive.
Wear appropriate footwear. Though corals are unequivocally beautiful, they can be sharp as a needle. Cuts can easily get infected and turn serious. And make sure to not remove any coral out from the ocean waters. It can have serious repercussions, as it is prohibited by law to extract any corals for personal use. Doing so will invite severe penalties.
Never snorkel alone. Any emergency could lead to tragic consequences. If your equipment malfunctions or you experience an injury, it is always advisable to have help at close quarters. Using the thumbs up sign every few minutes is like a security blanket and heading up to the boat every few minutes is advised.
It would be ridiculous to venture into open waters without reading the weather report. Just as you would when climbing a mountain, make sure you do it when out to snorkel. It can be the difference between life and death. Outgoing tidal rhythms and choppy waters make for very uncomfortable and dangerous circumstances and make sure you are aware of the risk factors and precautionary measures involved.
Needless to say, snorkelling though pleasurable requires immense stamina. So conserve your energy. In cold water, body temperatures can fluctuate very rapidly and wearing a body suit and a snorkelling vest can decrease energy loss and keep the body warm. The vest keeps you afloat longer without the need to constantly kick your hands and legs.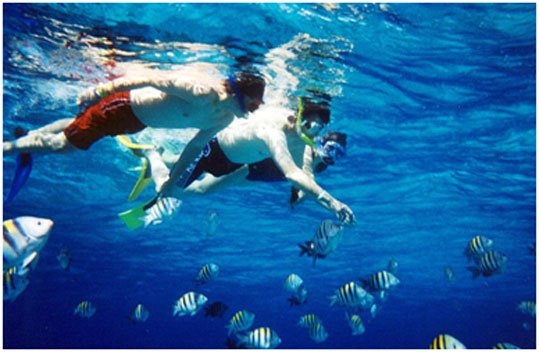 Always remember that you're an alien in the marine environment. Getting too close or touching any aquatic beings can result in painful bites or stings. Enjoy observing them without disturbing their habitat or trying to feed them. You might end up losing a finger or arm if unlucky. And likely be called a moron by many!
Some jellyfish found in Maldives can cause severe pain and repeated stings can have severe adverse reactions on the body. Know what needs to be done in such a scenario.
If weather conditions deteriorate or fatigue sets in, it is important to have the shore or boat at close quarters. Taking a break now and then wouldn't be the worst thing and it will give you confidence having someone at close hand.
Know local conditions and listen to local advice, it is they who experience the surf every day and it would frankly; be foolish to ignore their advice. Snorkelling in one country is not the same as snorkelling in another and no matter how much experience you have had, something can always go wrong if you are too cocky.
Carry a snorkel first aid kit at all times. It should contain everything ranging from sunburn cream to aspirin to cigarettes…Yes; the tobacco or nicotine in it is the fastest cure for most stings. And yes, stay away from sea urchins found in this region, it will take a lot more than a cigarette to relieve you from its pain!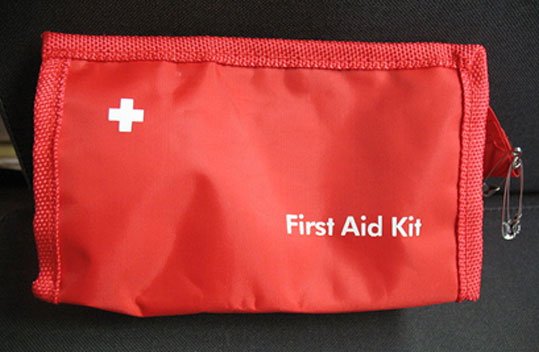 Make sure entry and exit points are secure and easy to access.
Obviously it would make sense to move with the water currents never against them. Study the ocean for a bit and get a feel of things before diving right in. Breaking waves can be difficult. Dive under them.
Avoid water that is murky or dark; you would put yourself in danger and would never be able to see much anyway. Avoid dusk or dawn or when it is still dark out.
Make sure no one is intoxicated .The help at hand and least of all, the snorkeler.
Using sunscreen in the water destroys marine life and washes off anyway .Use it only on exposed body parts and as far as possible use the biodegradable kind.
Keep the mask clear so as not to get disoriented.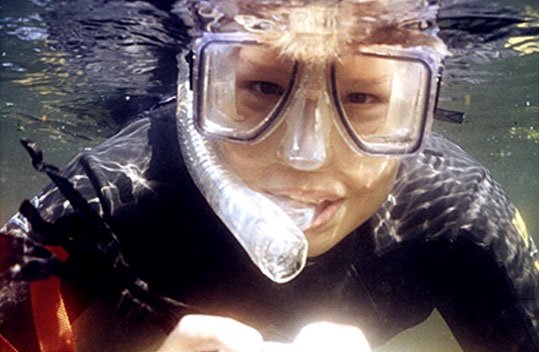 Whatever you do, don't stand on coral reefs .That would be like standing on your dog effectively, while he's biting!
Even though a lot of people do it, snorkelling without knowing how to swim is hazardous.
And don't push anyone to do it if they don't want to; that is lack of common sense and can put both you and them in serious danger.
With these simple and easy to do trick, one can enjoy the wonders of the sea without damaging nature or their conscience! And I guarantee you; your first dive certainly won't be your last!
0