Before your mind wanders off, let me tell you that this has nothing to do with Sher Khan or any of his relatives from the Indian jungles. All of us have gone around on safaris looking for that elusive tiger that everyone else but you has seen. Well maybe it's high time we stopped hunting around for the bigger tigers and look around at what surprises the jungles have to offer around each corner. Even in the most unexpected of places, can the most fascinating wildlife be found.
This article is about a different kind of tiger altogether, not a man eater (a horrible term to demean the animals after encroaching habitats and conflict arises), not a hefty male that commands large swathes of territory, nor a cute cub that will melt hearts. This is about a Striped Tiger (Danaus genutia), a butterfly that belongs to the family Nymphalidae or brush footed butterflies. This butterfly is a tawny orange color with black vein, black margins on the wings and white spots on the border of the wings. Slightly elongated spots can be seen towards the tips of the upper wing that is slightly darker than the paler under wing.
These butterflies are commonly seen in a variety of habitats ranging from forest, to scrub forest, to moist deciduous, to evergreen forests up to an elevation of around 2,500 m. THey are regularly spotted at Frolic Boonies Mudumalai summer camp site
Males can be seen on Crotolaria, Milkweed etc as these are sources of pyrrolizidine alkaloids, that males use for courtship.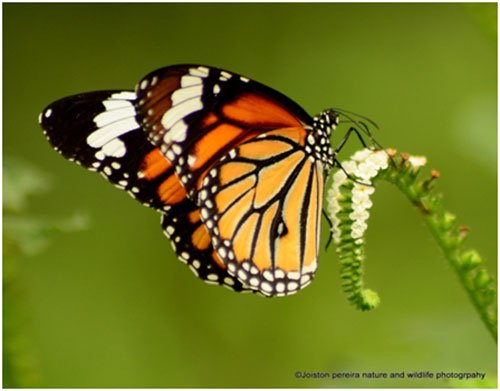 A Striped tiger butterfly seen at Mudumalai.
These butterflies can be seen flitting through the campsite, making their way across to the open patch near the volleyball court. During the migratory season, large groups can be seen making their way over the campsite, heading to the forest just past the stream.
Author: Joiston Perira – A Naturalist with passion for conserving wildlife and natural habitat, he recently revived the annual bird survey / census at various water bodies / lakes of Bangalore.
0