The Indian hare (Lepus nigricollis), which is also called the black-naped hare, is a common species of  hare found in the Indian Subcontinent.
This hare has large muscular feet to help it bound across large distances and can cover 1.5m in a single leap. The ears are large and specially designed to collect even the faintest sound since these animals are nocturnal and their vision is not as well developed as that of the owls. The ears can also be rotated independently of each other and pick up sounds from different directions simultaneously.
The nape or neck has a patch of black fur from which this hare gets its name. The tuft is clearly visible in daylight but is not easily discernable in low light, i.e. in the evenings.
The hares can be found moving about actively during the day as well as during the night, however sightings are far better in the night.
While on night treks around the campsite, on multiple occasions someone would whisper eyes and all torches would be turned in the same direction in synchrony. But what we expected to be some other mammal happened to be hares. These little fellows could be found scampering all across the field as they went about looking for food. And often they would be mistaken for civet cats or even mouse deer with half the camp in anticipation of seeing one of these only to spot a hare bound out of the bushes.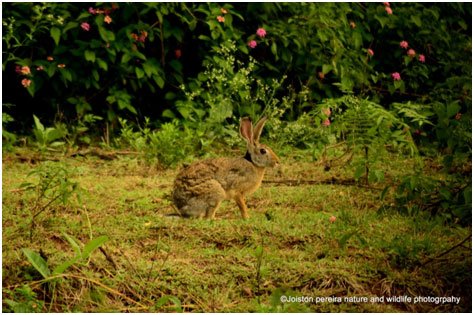 A Black-naped hare seen while on a walk around the campsite.
Notice how its ears are pointed in different directions to pick up sounds from more than one source. The stout muscular legs are also visible here and they are used to power the animal through the fields. The campsite at Mudumalai abounds with these fellows bounding around and often at night you can see a pair of eyes floating eerily in the darkness.  These hares are extremely shy and scare very easily. Step on a dried branch and you've had it. Off goes your hare, bounding into the distance and all you can do is sit back and admire the raw beauty of nature.
Perhaps the next time you do come across one, you will get a chance to see one up close and notice what it does with its nose. These hares are a indeed a delight to watch and will instantly make you feel like taking one home with you, but remember- Take nothing out of the forest but memories.
0